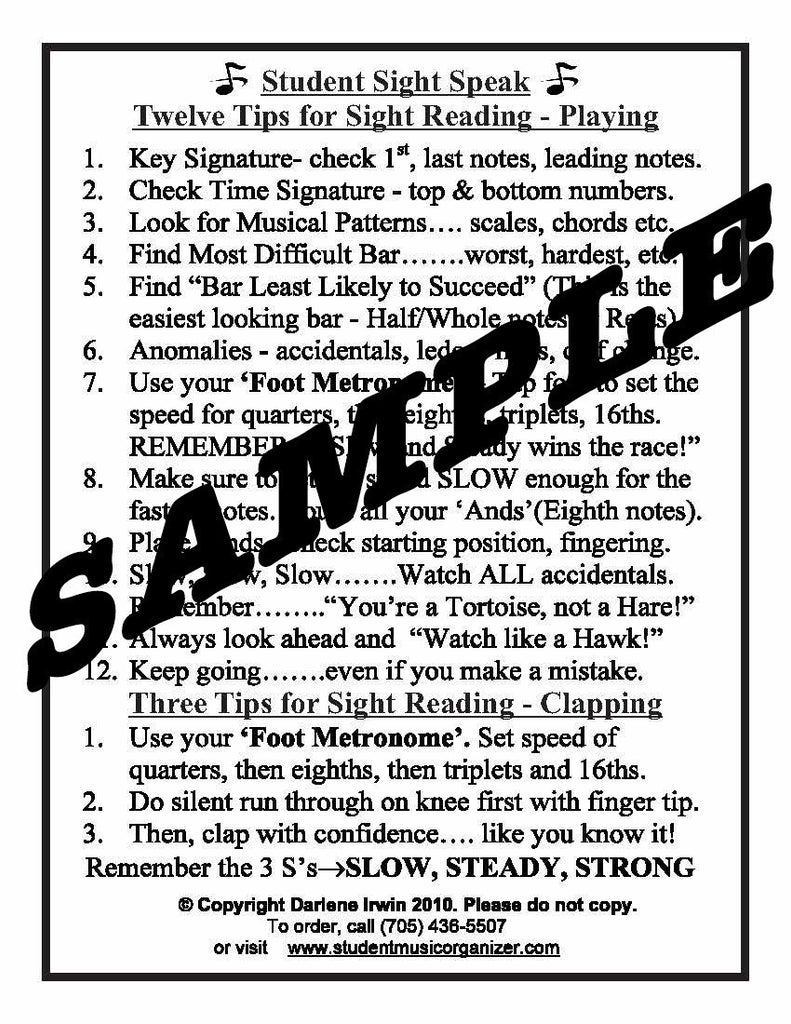 Sight Reading/Memory/Performance Cards
** A 10% discount is available for teachers. Enter the discount code "TEACHER" at checkout to receive this discount. **
These handy cards are sold in two different sizes:
- Student Cards (5 card set - 5x4")
- Teacher Studio Card (8 1/2 x11")
- Downloadable pdf - Sight and Clapping Aids (8 1/2 x 11")

- Downloadable pdf - Memory and Performance Aids (8 1/2 x 11")

The Sight Reading/Memory/Performance Card is a two-sided quick reference guide designed to help students improve their sight reading, memorization and performance skills.
Side One: contains tips to assist students preparing for the sight reading portion of an exam – playing and clapping.
Sight Reading for an exam is a very specific skill that requires special training. In order to achieve the highest mark possible, students must be able to analyze and play a selected few bars of music accurately THE FIRST TIME THROUGH. They only have a few precious minutes in an exam to do this.
The Sight Reading card contains 12 essential points that students should go through every single time they sight read. This encourages them to slow down and think before they play. Beginning students should say the points out loud. With consistent training, student will eventually learn to say the points in their head (I call this 'Sight Speak'!)
Side Two: Contains nine helpful memorization tips. It also contains twelve tips to aid a student in performing a piece from the time they stand up to play until they sit back down.
In summary, this card is an excellent aid to assist students with their preparation for exams and participation in festivals, recitals, etc.
NOTE: These charts and digital files are copyrighted and are not to be copied and distributed to others. Students are required to purchase their own copies.